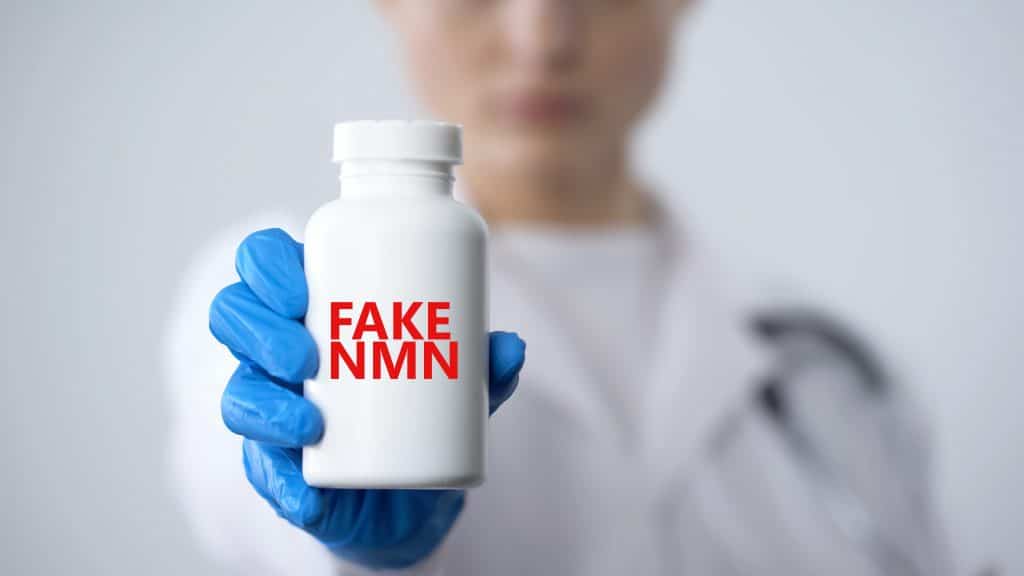 Over the past few years there have been several reports of fake or low-quality longevity and anti-aging supplements namely Nicotinamide mononucleotide (NMN) being sold online on sites like eBay, Amazon, AliExpress, it's not surprising given the public interest generated by David Sinclair's Book along with the high price of legitimate NMN. These unscrupulous companies are selling products that claim to be NMN with no or very little of the active ingredient, what's worse many of these products can contain unacceptable levels of heavy metals and arsenic.
In 2022 ChromaDex the manufacturer of TRU NIAGEN tested 21 brands of NMN available on Amazon, 14 were found to contain less than 1% of the claimed NMN content, a screenshot of the results can be seen below. While its great that ChromaDex has paid up for this testing and subsequent report, it should be noted active ingridient of TRU NIAGEN is Nicotinamide Riboside (NR), which makes me wonder if the objective of this report was purley marketing to muddying the waters of NMN, however it has exposed the bad practices of some companies and highlights the point extra checks should be taken (see my checklist below) when purchasing any supplement. Here is a link to the report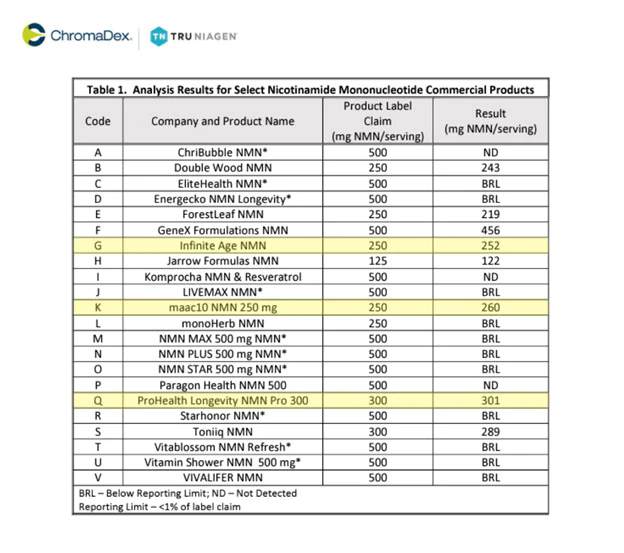 In 2021 ProHealth Longevity teamed up with their supplier Effepharm Ltd (the producer of Uthever NMN) to analyse the quality several brands of NMN for sale on Amazon surprisingly more than 50% contained no NMN and many had less than 80% purity. Link to article
In February 2022 Medium.com published an article detailing a web of brands selling NMN, Liposomal Glutathione and Resveratrol all associated to Serumlab S&C International LLC, in this case all the brands associated to Serumlab S&C International LLC were tested and found to have no or very little of the ingredient listed on the bottle. Link to Article and below a screenshot listing the assoicated suppliment prodcut names and test resutls. Stay clear of these products if they are still available.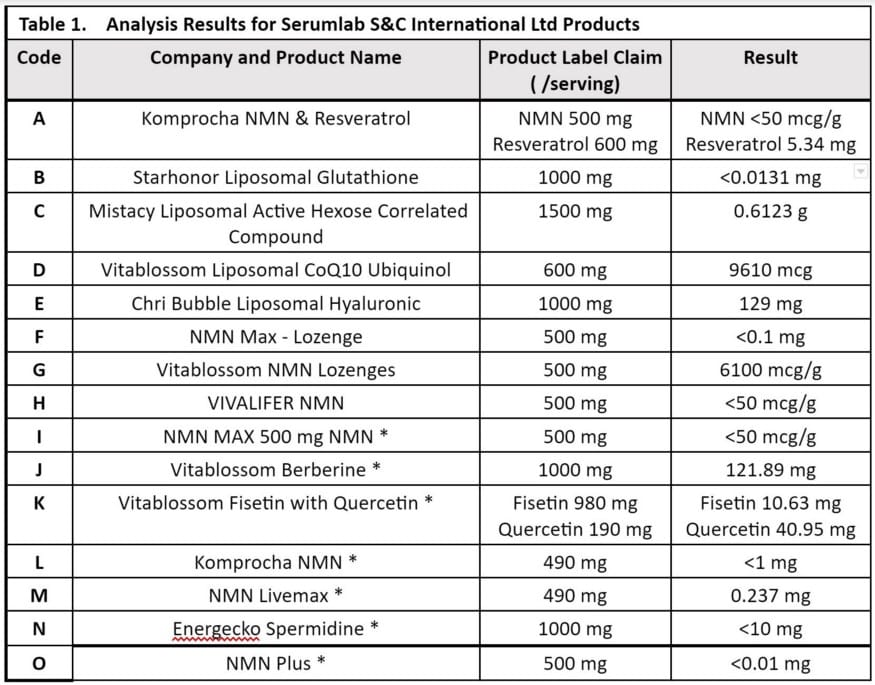 How to spot fake Longevity supplements including NMN
While its great to have the resources to be able to test the purity and safety of supplements, its usually only possible for companies and wealthy individuals, which is why I have outlined a few of the things you can look for to assess if the NMN or any supplement for that matter is good to purchase.
Does the product listing have a recent Certificate of Analysis (COA) for both purity and heavy metals from a recognised laboratory such as Micro Quality Labs, Summit Nutritional Laboratories or Eurofins?

Does the listing have fake reviews, to check enter the listing into fakespot.com its advanced algorithm will tell you high accuracy if its detecting fake reviews.

Check the supplement on ConsumerLab.com and if its listed does it get a pass or fail.

Is the price overly cheap, NMN is an expensive supplement to produce if the supplement is overly cheap you can guarantee it either has no or very little NMN.

Does the company have good customer support and transparency practices, if you can reach out to the company for details such as COA and other details of their products, also do they have a verifiable address, business registration and contact phone number, if so its most likley you are dealing withi a legit company and therfore would more than likley be selling a pure product.
A list of brands supplement I trust and currently or have used include:
ProHealth Longevity
Renew by Science
Tru Niagen
Doctors Best
California Gold
Life Extension
NOW Foods
GENEX Formulas
Double Wood
Jarrow
Swanson
I hope this post has been informative, please comment below Longevity supplements you are currenlty using and also let us know if there are any other checks you do when purchasing online to ensure you are purchasing legit products.